I am writing this today in the middle of an anticipated snow event in north Georgia. All surrounding schools have been canceled, the roads are nearly devoid of traffic, and I find myself being able to work from home. I thought it was time I answer a question I receive quite often in emails from people around the world:
"How do you find time to write?"
This question is second only to, "where do you get ideas from?"
The ideas' question is impossible to answer. I love stories, both hearing/reading them and sharing. I am always daydreaming when I should be working, driving, concentrating, etc. I don't know where the stories come from other than me thinking something would be cool.
But the finding time to write question is a little easier to answer--anytime I can. For example, the expected snow shut down my world today, giving me an opportunity to get extra writing time!
Confession: I have two jobs other than writing. One is a full-time job, and the other is not. Make no mistake; writing is the dream job. But it's an up and down journey full of great months and slower months, triumphs and pitfalls. When Netflix calls to make Star Runners into a series, then I'll consider jumping into the full-time author lifestyle. :)
So having more than one other job requires me to write at odd times whenever I have the chance. I write in the early mornings mostly, trying to cram in words before leaving for the "day jobs." There are times I realize I should be sleeping, but then I think of the people who are waiting for the next novel, and I keep going. I don't care if only one person out there wanted another Star Runners book--I'm going to write it!
However, deciding to embark on writing a series of novels demands a firm commitment. It means spending hours locked inside a room, ignoring friends and family, and sometimes refusing to sleep until the story is completed. There will be roadblocks as life does everything to prevent to completion of the series. Sometimes you would rather catch a few extra Zs. Sometimes you'll want to do this: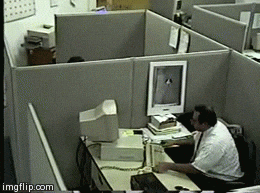 Don't.
If you have this story inside of you, write it! The clock on all of our lives is ticking every second, hour and day. In fact, I had better get back to work since I have this extra day of writing!
Please drop me a line if you are interested in discussing more about the life of an author. I am by no means an expert. However, I would be happy to share with you any tidbits I've learned over the years.
Look forward to hearing from you!
Stay frosty!
- LET